Stone Inspired was commissioned by the Ochils Landscape Partnership, part of Clackmannanshire Council, and the Alva Glen Heritage Trust, to design and build a dry stone bench to commemorate the Queen's diamond jubilee in the Alva Glen, at the foot of the Ochils.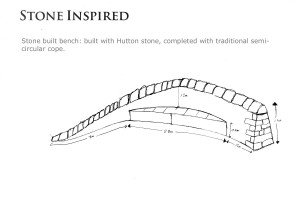 The design was initially meant to incorporate a cheek or gate end in the build, but when we started the construction found a large boulder in-situ.  It was such a distinctive feature that it had to be included in the bench – such is how flexible we need to be with our designs!
A flat piece of concrete was built into the wall to take a metal plaque at a future date.
The stone is a rough whinstone from an old Border field dyke, with stone supplied by Borders Aggregates of Kelso.