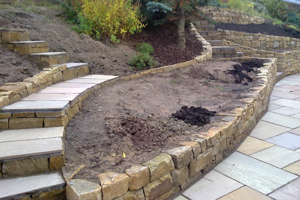 Project Description
The client's garden was a mix of decking, steep slopes, established planting and a low mortared stone wall.  She asked Stone Inspired to come up with a design that made better use of the space.  Two staircases were required to give access to the top level, a low retaining wall would rise the level of the lowest part and various retaining walls/terraces gave the garden some shape.  Oh, and a bench to catch the sun.  A long short-list of requirements!
The job was a challenge as the weather was particularly unkind to us with lots of rain churning the clay soil up.  We had the tail-end of a hurricane to add some spice.  During the initial digging process, we uncovered an old field drain that required moving.  Having moved one drain we had an extra task of putting in other drains too improve the drainage of the patio area.  Sometimes when you dig in gardens, you uncover lurking problems!
However, in the end it all worked out well!  A phase 2 of the garden will take place in the Spring of 2012.
Stone – Alston stone
Paving – Steve Robison of Sunstone Gardens.