How much does a dry stone wall cost?
This is a question I get asked frequently.
Dry stone walling projects come in all shapes and sizes and so the cost is dependent on the following:
The general scope of the project – a free-standing wall, a retaining wall…;
The features required – steps, benches, house names and so on;
The type of stone and the method of delivery (loose-tipped vs bagged);
The access to the site from where the stone is dropped;
The time required to prepare the site;
Curves, corners, height, length…
and so on.
So rather than give a price over the phone I always arrange a site vist. This allows the client to explain what they would like built; and for me to see the garden or space; to take measurements, show examples and so.
What can you build with dry stone?
The projects page shows many of the jobs Stone Inspired has built over the past three or four years.
The most typical types of jobs that we do are:
Free-standing walls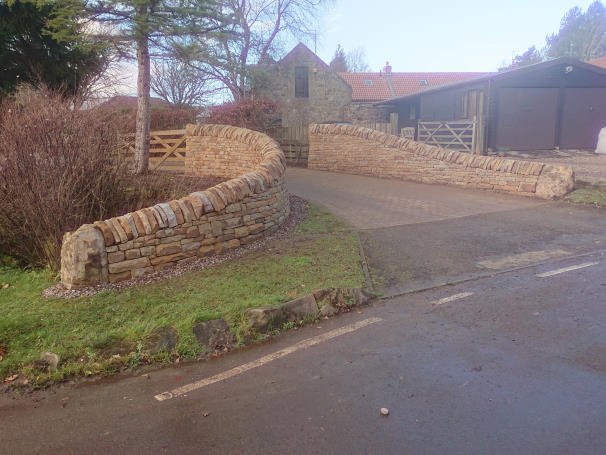 In the example, two free-standing walls were built at the entrance to this property in Livingston, West Lothian in 2020.

The client had the gates installed prior to the walls. I built two vertical ends – called cheek-ends – to butt up against the gate posts. One of the walls curved to a low ending height; and the other was straight. Two large boulders were sourced to provide a book-end for the walls.

Finally a house name carved in stone was set in the curved wall.
---
Retaining walls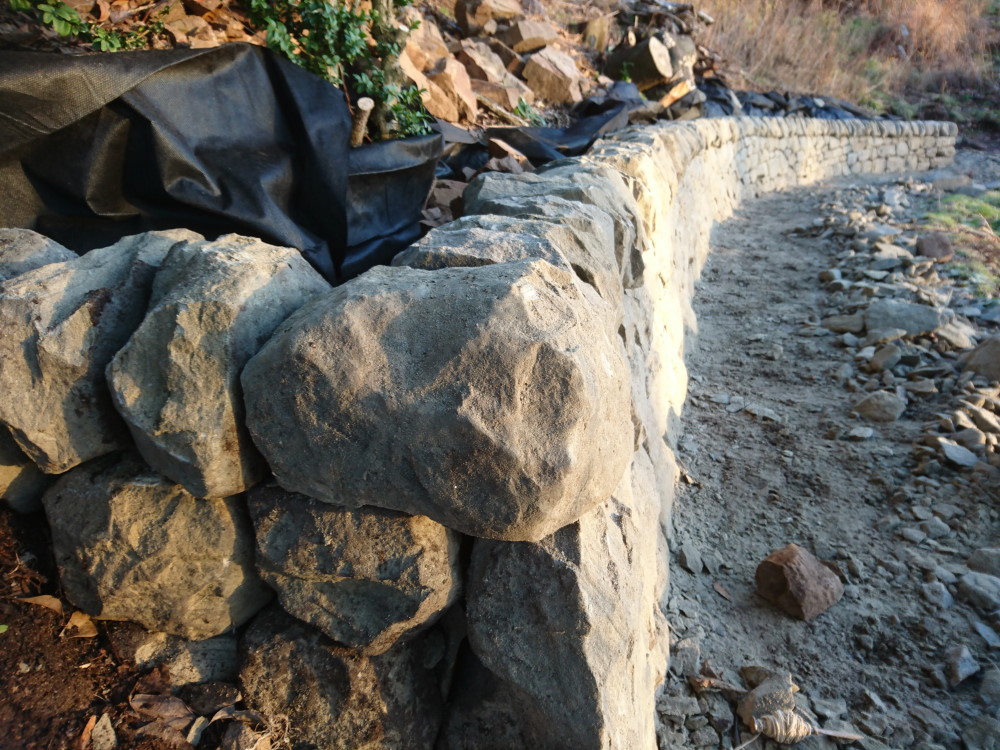 Dry stone retaining walls are designed to hold back earth banks.
They are ideal for gardens as they are free-draining, allowing water and moisture to flow through without weakening the structure.
They also provide habitats for bees and make excellent planting spaces.
By nature of their method of construction, dry stone retaining walls are strong, and there is no theoretical limit to how tall they can be. Anything up to 3m is pretty straight-forward.
---
Benches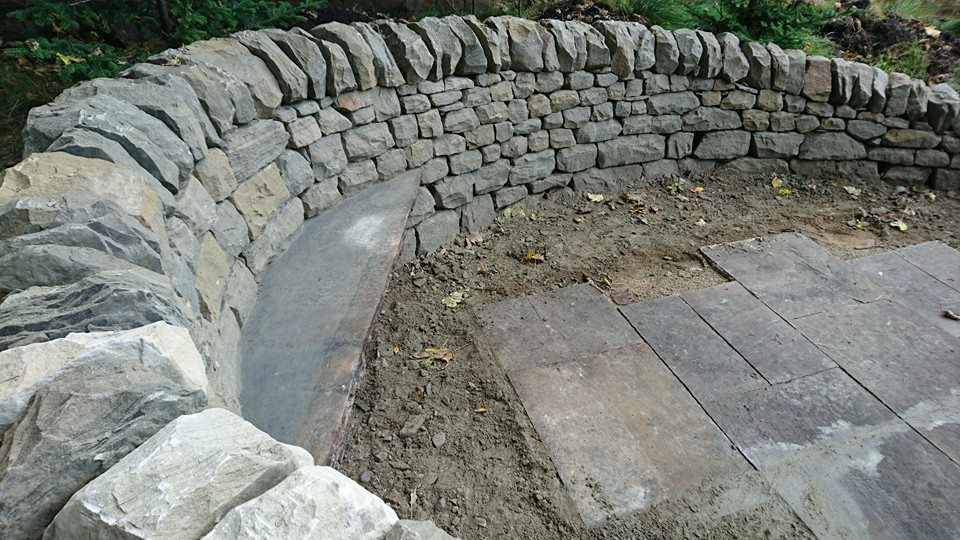 Dry stone benches make an excellent garden feature.

They can be stand-alone features as in the example left, or incorporated into a larger garden project.

The seat part can be made from stone, slabs or in the example from wood.
---
Steps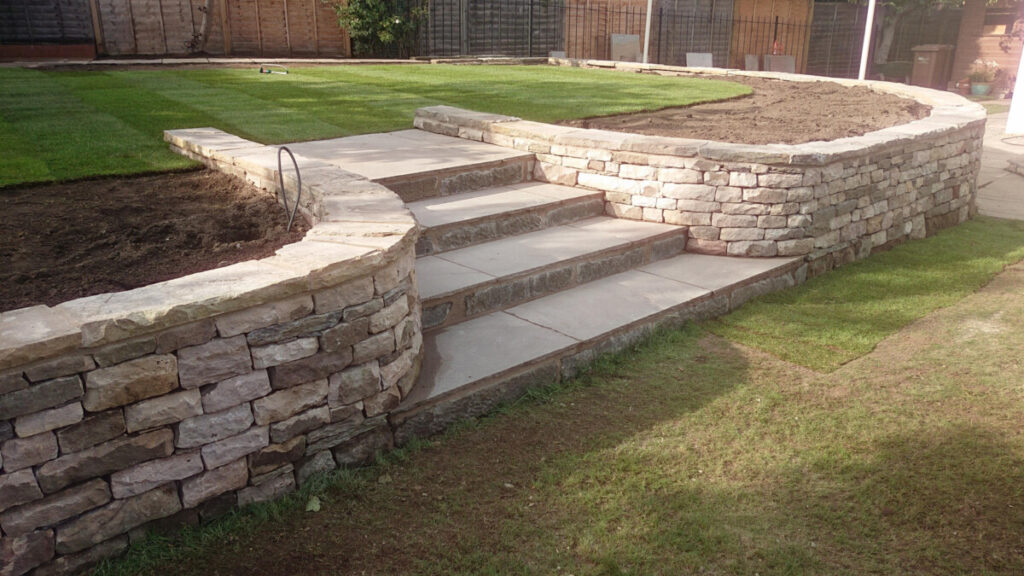 Steps (together with retaining walls) are a key feature of transforming a sloping garden into a useable space for planting.

The steps can be made with curved or square corners; bell-mouth shaped or parallel.

There are lots of examples on the projects page, clicking on "steps" tab.
---
Features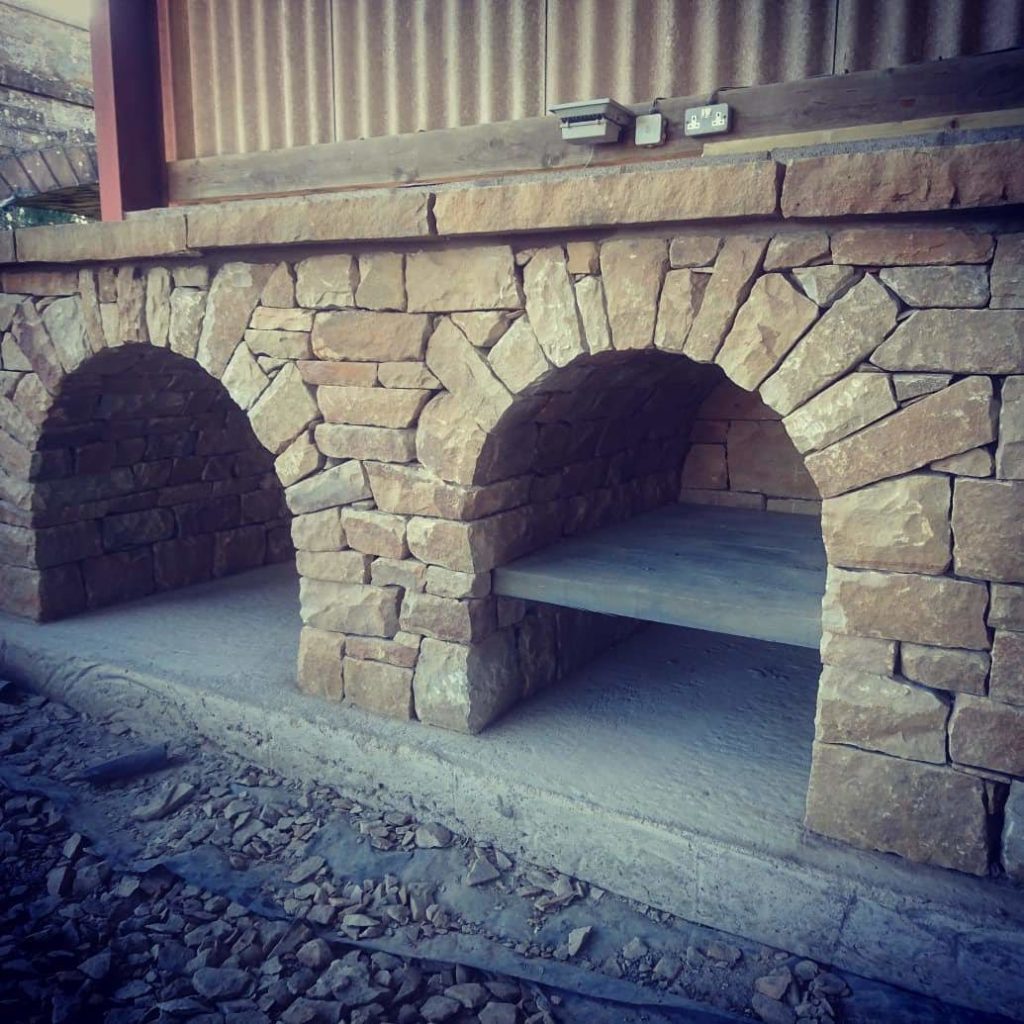 Dry stone is a truly adaptable material and with it we can build:
Arches
Water features
Pizza ovens
Recesses in walls for candles and bottles
Fire-pits
Carved house names
Pillars
Bridges (one day!)
---
Paths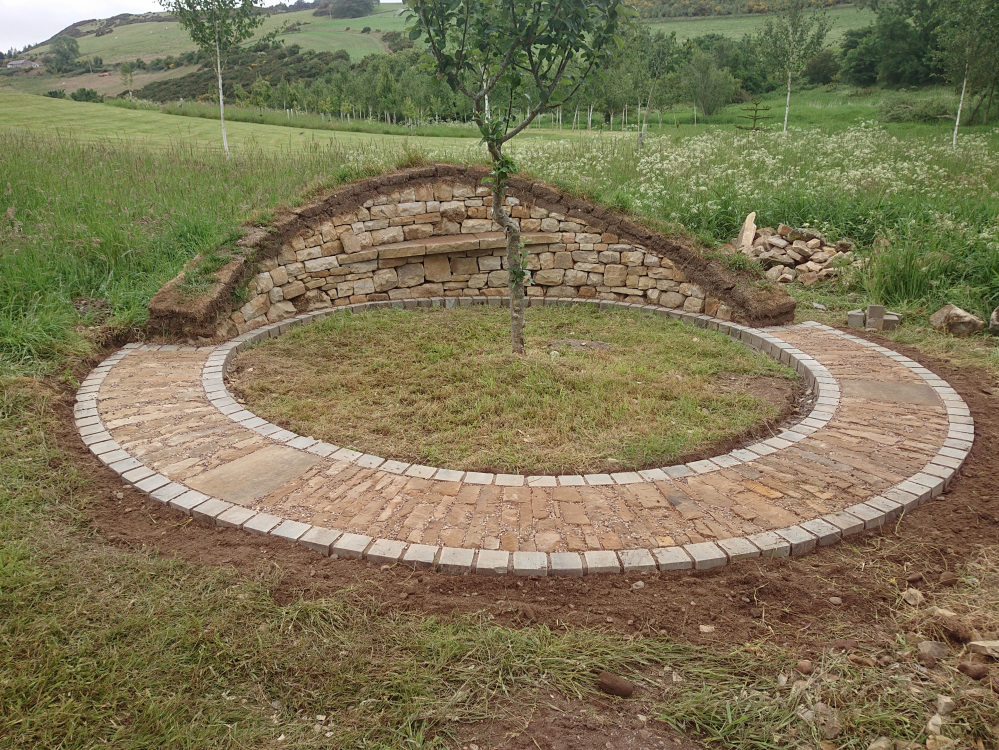 As well as walls, steps and benches we also do paving as part of our projects.
The example left is of a pitched stone path with Caithness setts for edging.
We do more "standard" Indian sandstone paving and crazy paving too.
---