The Evans

Thank you – we are truly delighted with the quality of the work undertaken by Stone Inspired. From start to finish Jason engaged positively with us, taking time to understand our requirements and making further suggestions which helped to improve the overall design.
It was fascinating to watch the skill and craftmanship in developing this fantastic addition to our garden. The Denfined stone is beautiful. Demonstrating a professional approach throughout we would highly recommend Stone Inspired to others.
The Evans, Morningside, Edinburgh
The Bennetts

I just wanted to say a huge thank you for all of your efforts – the end result has exceeded my expectations and we are delighted with how the wall, the raised border and both sets of steps have turned out. It was fascinating watching the process and your efforts and attention to detail was second to none.
The Bennetts, Murrayfield
The Good House Company

Stone Inspired did a very professional job, using what must be rare skills to finish the wall to a high standard. My clients and other visitors have commented very favourably on the work, and I believe the price was fair too.
Peter Giacopazzi, The Good House Company, Kinross
Paths for All

On behalf of Paths for All, I would like to thank Jason and his team for such a fantastic, high quality job. The walls were completed to high standards, as expected from such skilled craftsmen! My colleagues and, likewise, visitors to the gate demonstration area, have commented very favourably on the work, and I would be more than pleased to recommend Stone Inspired to others and look forward to working with them again.
Kevin Fairclough, Technical Officer, Paths for All
Peter and Caroline Wilson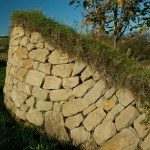 We love the Wonky Wall. It has already given us great pleasure to see it evolve, like some ancient dragon stretching itself out of the ground and coming to life. Not so much breathing fire, as ice (it was a very cold winter !). The wall is a masterpiece of Jason's craftsmanship and his imagination. A true work of art.
Peter and Caroline Wilson, Collessie
Rab Kerr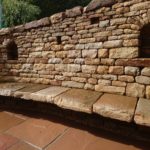 Put in a lot hard work to get desired result in what we wanted. We are very happy obviously he is top class with what he does and very knowledgeable and would recommend him very much. Anyone who has seen our wall is very impressed. We are absolutely delighted.
Rab Kerr
Paths, benches and firepit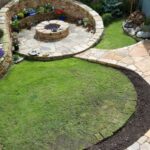 Once again Stone Inspired have come up trumps, sometimes we have wishful dreams that fail to materialise, provide Jason with the idea and he will deliver. Two years ago we embarked on chapter one, a planter, seating area with a fire pit, not even the "beast from the east" could prevent Jason from delivering what is not only a practical, socialising area, but an aesthetically pleasing work of art, and greatly admired by many, even the afterthought of adding a base for my shed was was duly delivered in the same style as the paving within the seating area. This weekend chapter two was completed, a raised path in the same paving style which winds its way across our lawn linking our decking area to the seated fire pit area and my shed, another raised seating area was also delivered in the same style and even with some last minute alterations to the design was delivered within the time scope, allowing us to sit and view the setting sun and of course our marvellous "radical road" path. Chapter three is on the drawing border, and the master craftsman will be back to continue the journey.
The Mitchells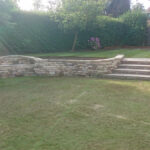 We are absolutely delighted with the work Stone Inspired did on our garden to create such a fabulous stone wall.
Jason helped us through all the stages from design, preparation and build and brought great ideas to us, which have transformed our garden. We're really looking forward to bringing in planting which will compliment what we have and of course our super new stone walls. I also want to commend Jason on his customer service. He communicated and consulted with us at each step, found extra stone for us and brought in other services when they were needed. It has been a pleasure to have Jason with us and we are delighted to have his work in our garden.
Many thanks and best wishes
The Cohens, Livingston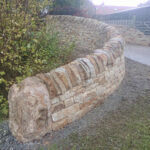 We are absolutely delighted with our curved wall to the front of our property. Jason's attention to detail and craftsmanship is exceptional and it is evident he takes such pride in his work creating a high quality piece of art. It was fascinating to watch his workmanship and amazing skillset to produce such a stunning end result. We are really pleased with the quality of the wall.
Dumfries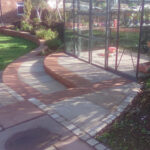 Jason was professional from the outset. At all stages of his work he explained and signposted me as to what he was doing and continually checked that I was happy with his work. He also checked I was comfortable with his ideas,involved me in any changes needed, took on board my own suggestions, amendments, and additional work without a fuss. When I say his work, I should say his art as his talent has transformed my garden and houses landscape beyond my expectations and wowed everyone who has seen my garden since. I would commend his work and 100% recommend him.
West Fife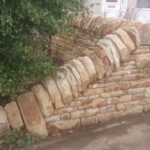 I am delighted with my Alston dry stone wall, which you so cleverly crafted to embrace my wildlife garden. It really enhances it.
I would have no hesitation recommending you to anyone. Trustworthy, reliable, honest and a great sense of humour. You are a really great craftsman.
I wish you well in your new projects.
Mrs KR
Murieston Garden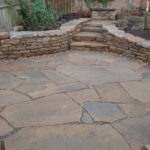 Jason met with my wife and I to agree an outline brief that was a blend of our requirements, and Jason's suggestions. A concise and clear contract was drawn up with agreed scope, price , and schedule.
As the drystone build progressed the layout and linkages between the patio, steps, mid level terrace and then the steps to the upper level developed naturally.
It was interesting to observe Jason and his fellow Drystone waller , David Wilson , craft and create such a beautiful flowing surface structure. It's rare to see such skilled artisans bent over their work whilst selecting, shaping and placing each stone.
The end result was a very harmonious arrangement of American style flagstones, delightfull retaining walls and planters with capstones which swept down like cascading ribbons connecting the 3 elevations. Jason also incorporated some existing stones, rocks and artefacts which formed the original garden and added to the story of our new garden.
Fantastic craftsmanship, thoughtful and creative design, well executed as a project and the final cost was happily within our expectations. Working with wholly natural materials has produced a unique finish and look that changes with the light and the weather. We are very happy with his work and his approach to the project and us as his clients.
I fully endorse the finished work ,with its understated artistic flourishes, and wholly recommend him to you.
It's not just stonework it is the crafting of Art.
Edinburgh garden stone wall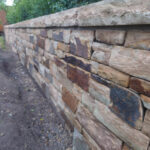 The dry stone wall has transformed our garden and made something whose main intended purpose was functional into a really attractive feature. Our friends referred to the wall as a 'work of art'. Jason is a master of his craft!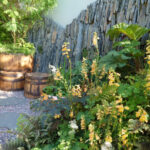 Feedback from Jane Porter, Garden Designer of The Still Garden
Absolutely fantastic working with Jason. His knowledge and skill in his craft surpassed what I'd hoped to achieve and as a result the garden the wall was awarded a gold medal and 'Best in Category' at RHS Chelsea Flower Show 2022.
Rosewell, Midlothian
Jason built a beautiful dry stone wall with a seating area for us. He is a true craftsman. He kept us very well informed and was keen to know what we wanted and able to translate that to a practical solution – not always easy. His friendly attitude and common sense made it a pleasure to have him with us.
The Taits