Thank you – we are truly delighted with the quality of the work undertaken by Stone Inspired. From start to finish Jason engaged positively with us, taking time to understand our requirements and making further suggestions which helped to improve the overall design.
It was fascinating to watch the skill and craftmanship in developing this fantastic addition to our garden. The Denfined stone is beautiful. Demonstrating a professional approach throughout we would highly recommend Stone Inspired to others.
The Evans, Morningside, Edinburgh

I just wanted to say a huge thank you for all of your efforts – the end result has exceeded my expectations and we are delighted with how the wall, the raised border and both sets of steps have turned out. It was fascinating watching the process and your efforts and attention to detail was second to none.
The Bennetts, Murrayfield

Stone Inspired did a very professional job, using what must be rare skills to finish the wall to a high standard. My clients and other visitors have commented very favourably on the work, and I believe the price was fair too.
Peter Giacopazzi, The Good House Company, Kinross

On behalf of Paths for All, I would like to thank Jason and his team for such a fantastic, high quality job. The walls were completed to high standards, as expected from such skilled craftsmen! My colleagues and, likewise, visitors to the gate demonstration area, have commented very favourably on the work, and I would be more than pleased to recommend Stone Inspired to others and look forward to working with them again.
Kevin Fairclough, Technical Officer, Paths for All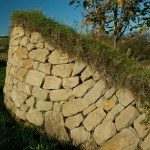 We love the Wonky Wall. It has already given us great pleasure to see it evolve, like some ancient dragon stretching itself out of the ground and coming to life. Not so much breathing fire, as ice (it was a very cold winter !). The wall is a masterpiece of Jason's craftsmanship and his imagination. A true work of art.
Peter and Caroline Wilson, Collessie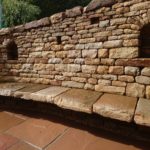 Put in a lot hard work to get desired result in what we wanted. We are very happy obviously he is top class with what he does and very knowledgeable and would recommend him very much. Anyone who has seen our wall is very impressed. We are absolutely delighted.
Rab Kerr