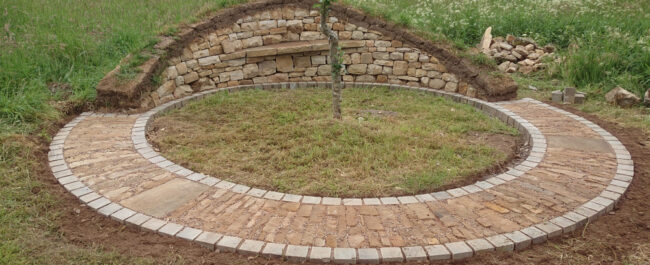 2020 – the weird dry stone walling year
SNAFU
In January 2020 I was waiting for an operation to fix the scaphoid I had broken in a motorbike crash in March 2019. The injury meant lifting stone and holding tools was very painful. At the start of 2020 I was considereing whether my dry stone walling career was coming to an enforced end.
The operation was initially set for mid-Dec 2019, and with 12 weeks recovery time, would have been ideal for me to be ready to work again by the start of Spring. However, it was cancelled with one day's notice. It was eventually rescheduled for late March 2020.
So 2020 started with me wondering if the broken bone in my left hand would prevent me from building another dry stone wall. As I come to the end of the year, I can look back at one of the busiest years.
As I waited for the March operation I started to explore the possibility of working with my injury. Of course in January none of us could have predicted the effect Covid 19 would have on the world.
Climbing Blind inspiration
I had seen the exceptional film "Climbing Blind" at the Edinburgh Mountain Film festival the previous November. It's about a climber called Jessie Dufton who was born with deteriorating eyesight. He was clinically blind by the time the film was made . Rather letting his lack of sight stop him from rock climbing, he and his wife Molly devised a way of communicating through radios and earpieces. Jessie leads the routes and Molly describes the rock, the hand and footholds and so on. And in the film Jessie leads a hard route up the iconic Old Man of Hoy – 449ft tall rock stack on Orkney. It was inspirational.
You can watch the film on BBC iPlayer here.
Kinky leather goods
I figured that if Jessie Dufton can climb blind, I can build stone walls with a broken hand.
Through a family connection I went to see leather worker Maggie Dick. I had thought wearing a wrist brace would allow me to lift stone without moving my wrist which caused me pain. We went through two or three prototypes before arriving at some medieval looking piece of armour.
In the end I didn't use the brace but the process I went through gave me the confidence to try working again.
I re-entered world of work at the end of March. Just in time for the Covid pandemic to shut the UK down for several weeks.
Back to dry stone walling again – the Cat Bench and pitched stone path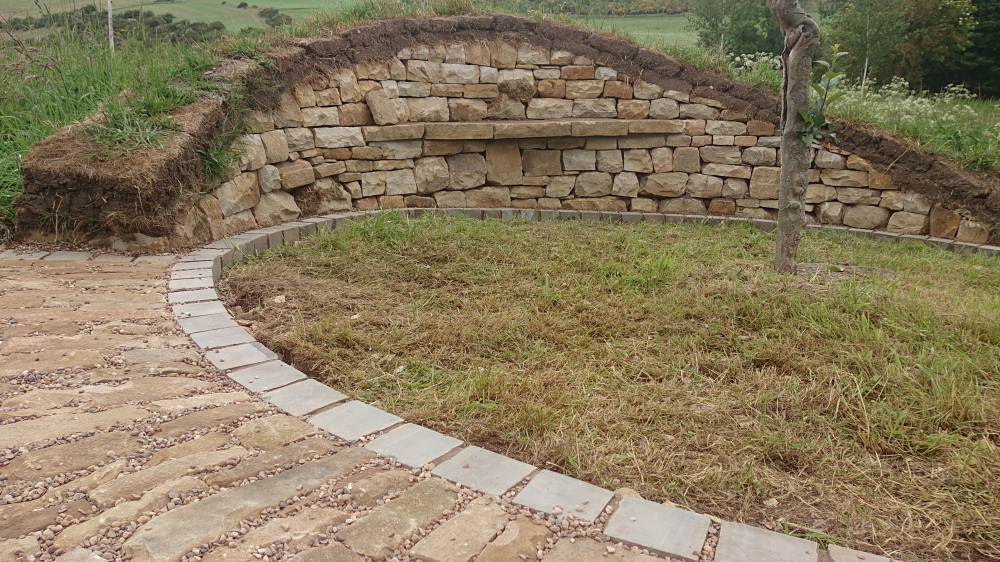 But then one long term client called to ask if I'd like to make him something with several tonnes of leftover stone.
The Cat Bench and circular path was the result. The pitched stone path was fun to make.
After the Cat Bench I laid some paving for a friend and then repaired a wall for another. These jobs got me through a difficult April and May.
The world starts to move again
By May the construction industry was re-opening and suppliers were trading again. With supplies flowing once more and the lockdown easing, it was possible to properly get back to work.
Going back to old dry stone walls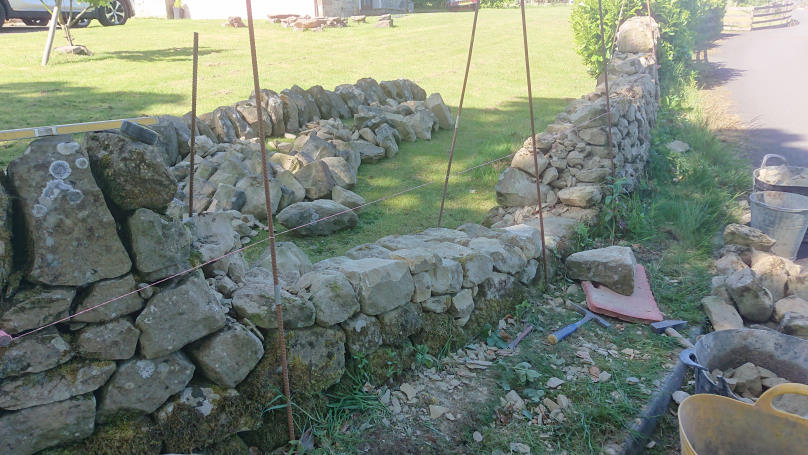 Next up I was asked to repair a wall that I had made 10 years ago. It had been hit by a truck.
The clients also asked me to re-do the entraceway as delivery vans had a habit of catching the walls. And whilst we were at it, they commissioned a carved name sign on a massive stone.
Then I installed three heavy monoliths on another client's property as the start to a garden re-design job (and hopefully a dry stone project in 2021).
Going back to old clients
A big theme of the first part of my working year was going back to work for former clients.
I had built a fibonacci-style bench and planter in Midlothian a couple of years previously.
The client and I had had several discussions about a follow-up project. We'd talked raised beds and maybe a path and planters.

In the end we came up with this curving path with "American-style" crazy paving, and a raised platform for a seating area.

Have a look at the short video to the left.


The big Perth dry stone job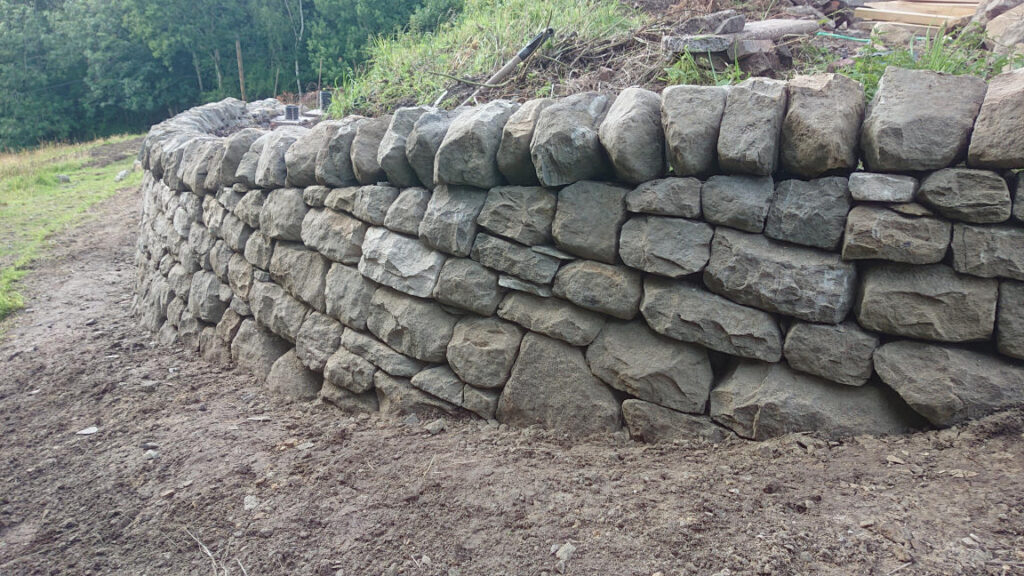 Yet another former client asked me back to do more work. This time the job was to create a big retaining wall to make some planting space at the top of a steep slope on his property. In all this job would keep me going much of the rest of the year, worked in fortnight long stints.
Making do with what you've got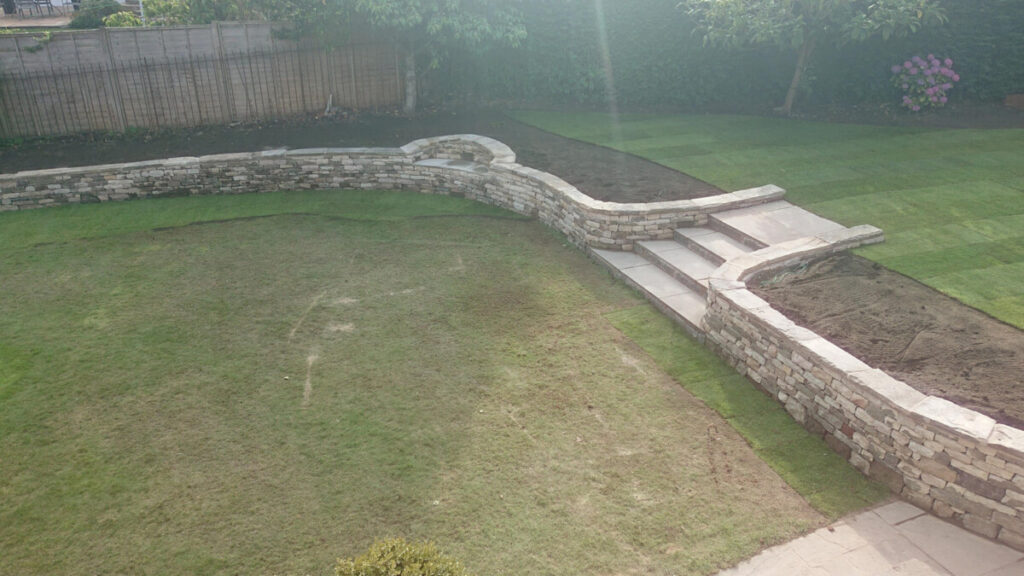 For this job is Edinburgh, there was a choice of re-using the existing stone in the garden; or bringing in fresh stone. There was definitely not enough to rebuild the existing stone as a dry stone wall but there was if the stone was cut and mortar-backed against blockwork.

So this is what we did.
The mortar was hidden to give a drystone look, and the stone we had available was just enough. It's not my favourite way of working but needs must and the clients are delighted with the finished article. The lime mortar pointing on the caps is lovely.
Perthshire dry stone walling…more of the same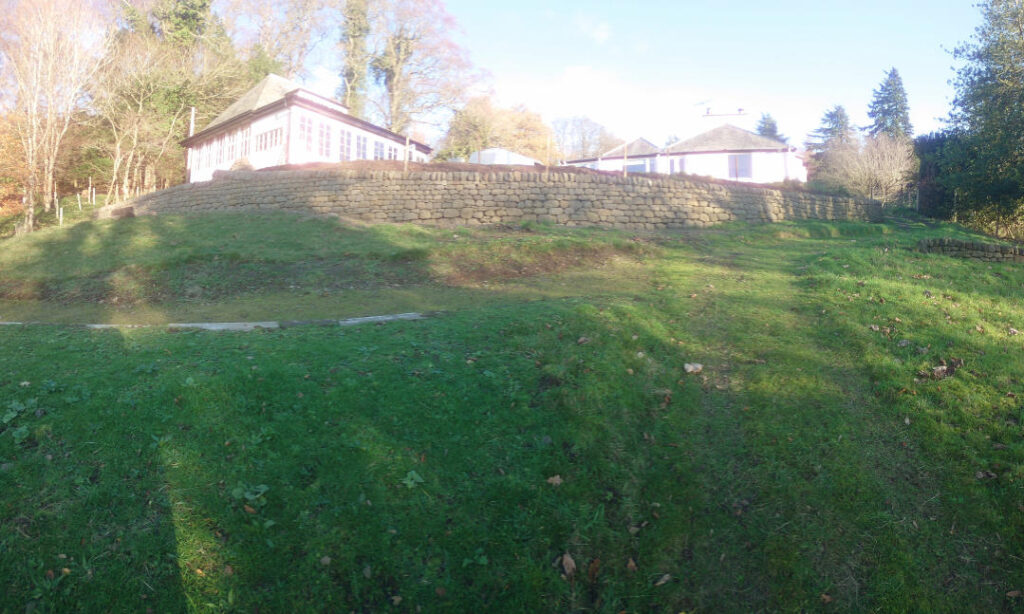 After that I was back at Perth to continue on the big retaining wall. Another two week stint.
Every day the stone pile got further away.
I was moving six barrowloads, then building; then moving another six; then building again.

And repeat.
Dry stone walling from home – or as close as it gets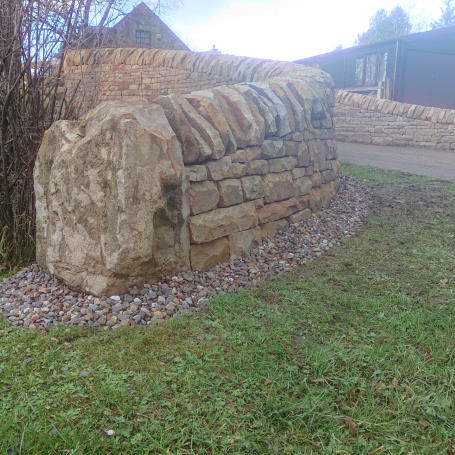 Then came as a first for me.
I've never worked in my hometown, or indeed rarely in West Lothian, so it was a pleasure to have a 12 minute commute to make these curvy gateway entrance walls.
The Perth job was an hour's drive north, so the chance to work so close to home and to build a lovely complicated curved feature was most welcome.
Another rare occurence is that this job is very visible being at the front of the property, rather than the back. It received some great comments and perhaps a commission to build something similar.

Win-win.
Perth, Perth and more Perth dry stone walling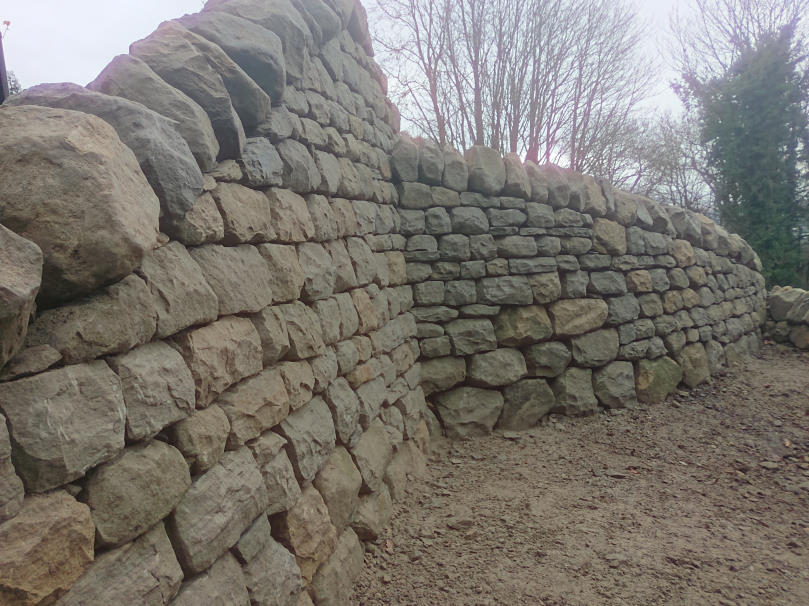 I finally finished the big dry stone retaining wall in Perth in mid-November. In all 38 tonnes of stone plus another 5 or 6 tonnes of stone dug out from the site became 43m of wall.
The job included a day down to the quarry to pick more copes as I was a few metres short.
It was a big job to do solo and there were days when I thought it would never get done.
I was very pleased with how it turned out.
Not quite finished in Perth… another stone job!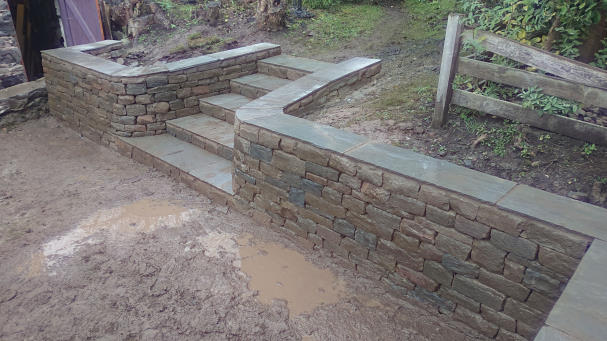 My last job of the year was a set of steps and two low-ish retaining walls in Perth…
This job was built with Denfind Stone, a material I hadn't used for several years. It was never my favourite stone due to the shale content. However, I was pleasantly surprised by the quality of it.
However the stone is so strong that it resisted all my hammers and carbide chisels – I had to resort to the cordless grinder and flush-cut blade to do any meaningful shaping. It was a slow process but the finished article is pretty good.
Working in Perthshire was definitely the theme this year.
And finally… the last job of the year.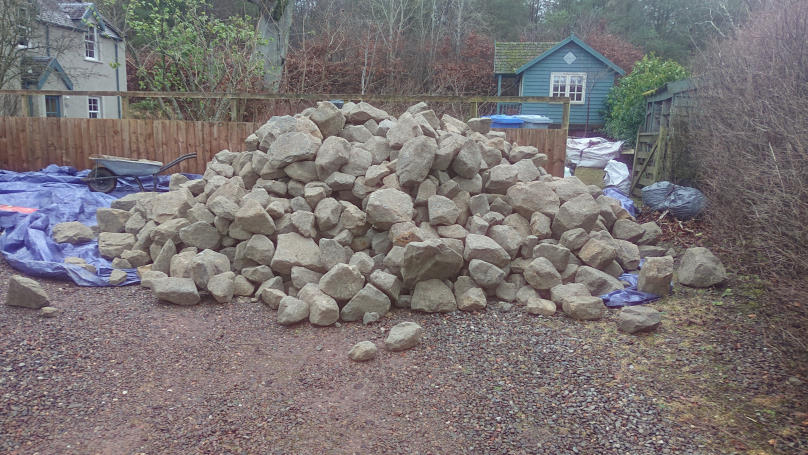 I was hoping to squeeze in one last job in 2020 but it was not to be. Instead of getting some time to get started before Christmas, all we achieved was getting the 15 tonnes of stone delivered and moved to the job area; and much of the garden dug out ready to start.
As of today the 29 December, there is snow and ice, so I'm having a proper break to recharge and looking at a 4 Jan 2021 start now.
More details of all of the jobs I've worked on this year are on the projects page.
2021 – what's in store?
The damage suffered in the 2019 bike crash brought home my mortality and the toll heavy manual labour has on my health.
For the last few years, I've tended to work alone. I look on with some jealousy at the co-operation and opportunities for working together that friends in Yorkshire, Lancashire and Cumbria have. It just doesn't happen where I live.
The good wallers in Scotland tend to be busy with their own projects. New blood has come into the craft via the Dry Stone Walling Association training schemes but these wallers have their own work now or have hooked up with others.
So I've been a solo waller for the most of the past few years.
In one respect I prefer it this way – the quality and style of building is consistent. I work the hours that suit. The walling is as much a life-style choice as a career.
That said over the past 18 months I have looked to work with others.
A stone mason friend helped me out for a couple of jobs this summer – particularly on the Edinburgh mortared job and the Livingston gates – but wasn't keen to commit to working with me all the time.
One of the new DSWA qualified waller's worked for me quite a bit in 2019, but has established himself in Perthshire. There's not been an opportunity for collaboration this year and it's looking unlikely in 2021.
In November a stonemason from the south of England contacted me. He was relocating to Fife, and was looking to learn dry stone walling. So far I've not been able offer more than a few day labouring and a bit of building. I am hopeful that this will prove a fruitful connection.
Other than that, I have enough work to carry me through to the Spring. There's a couple of nice wee projects to come.
And now we wait to see what the winter throws at us!