A review of 2012 – Part 2
Following on from part 1 of the review of the jobs of 2012, here is part two. Highlights include our first arch and a long stretch of boundary wall.
July 2012
Scottish Borders – stone circle
I helped Edinburgh dry stone waller Richard Love build this circular raised bed for a client near to Carlops south of Edinburgh. The stone comes from the Hutton Stone Co. in Berwick-upon-Tweed.
Bathgate – free-standing wall
This was a much delayed job. Originally it was planned to start in January 2012, but due to the unseasonally mild weather, the client couldn't get access to the fields where the stone for the wall was located. Instead it took another six months to retrieve it! Once we started though, the wall turned out great. More recently I had a call from the client to say that a car had crashed into damaging three metres of the wall. Hopefully, it'll be repaired soon.
Falkirk – phase 2
This was phase 2 of a job in Falkirk making a curving set of retaining walls/raised beds and steps. The stone is from the Alston Quarry in Cumbria, courtesy of Border Aggregates in Kelso.
August 2012
Edinburgh – repair and rebuild
A small job repairing and rebuilding two low terraces in Edinburgh. The stone was all on-site: it just had to be put together again!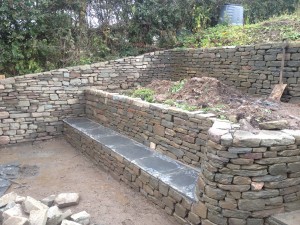 Larkhall – retaining wall and steps
Phase 2 of the job in Larkhall that I started in December 2011. This part involved building a low bench, facing an old brick wall and building a long. low raised bed, again facing old brick with nicer stone.
September 2012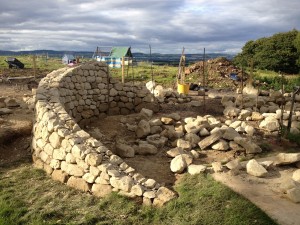 Kinross – crescent shaped bench
The first part of quite a large job on this property near to Kinross involved building a tall, crescent shaped bench. Turf was used to top off the wall, which was built from Hutton Stone.
October 2012

Kinross – wall and turf
Phase two of the job near to Kinross was the building of this long section of wall as a boundary to the client's garden. At it's highest point it measures 1.8m.
November 2012

Auchtermuchty
The last big job of the year and the most complicated. The retaining wall measures 2.5m tall and was planned as a backdrop to the client's soon to be developed garden space. Breaking up the large expanse of stone is a recessed arch with a stone trough protruding halfway through. The stone was an eclectic mix of red sandstone and grey whinstone, all recovered from a local farmers field. In all some 80 tonnes of stone went into the walls. A big job.
December 2012

A couple of days work taking down and rebuilding two small sections of this random whinstone retaining wall in West Lothian. The overhanging hawthorn hedge and the freezing temperatures made for tricky working conditions!