My dry stone year – So was 2016 better than 2015?
2015 ended with a six month-long slog on a big dry stone walling job that was miles from my house. The drudgery of the long daily commute was compounded in the final month with a big detour and serious traffic congestion due to the temporary closure of the Forth road bridge. Oh, did I ever mention the poor quality stone I had to work with? 2016 surely couldn't have been as painful!
Well, as it turned out, pain was big factor in my year.
2016 provided me with a lot of enquiries but frustratingly most of them didn't come off. There were three dry stone walling quotes in particular that I spent a fair amount of time on. All were big and complicated designs: with benches, moongates, steps and water-features. But for various reasons they didn't happen.
But I was thankful as ever for the clients that I did have. I considered and turned down a potentially lucrative job in Europe because it just didn't sit right with me. Other than that, it's been good to be busy, challenging for various reasons and as ever, I have learned something new.
Here is my year.
January and February – Slamannan
I had no work for the first three weeks of January, so I was starting to feel to the financial pinch a bit. I was grateful to finally start. After over-running so badly on the previous big job I had kind of decided that doing big walls on my own was never going to be a money spinner. However, Slamannan turned out to be another multi-month job. Oh, well, keeping to New Years resolutions was never my strong point!
Slamannan tends to get snow and frost because it is quite high above the Forth Valley, so it was pretty cold and miserable for the first couple of months. Temperatures hovered around freezing for a long time – working with big round boulders in the mud was hard going. The job involved taking down an old dry stone wall and rebuilding it; I also had two pillars to make and a section of driveway to be tarmacked. The stone was a mix of big, round granite boulders and square reclaimed sandstone. After working out that there was a distinct lack of cope stones, it was agreed to lay a turf top.
Towards the end of February I went ice climbing in Norway for a week with three friends. A mildly dangerous form of fun with the prospect of falling ice to damage faces, but a good way to escape the worst of the Scottish winter.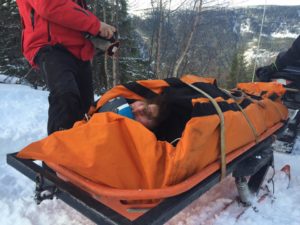 Mid-way through the week, we had a day off from the climbing and went skiing. Although I had only been skiing for a couple of years, I taught one of my climbing friends how to ski. There was much falling over in the morning but by the afternoon, lots of fun was being had. I had an innocuous fall on the last run of the day and ended up being taken off the mountain by the snow patrol. Never one to do things by halves, it turned out I had ruptured by anterior cruciate ligament and tore my medial collateral ligament.  This was going to have a big impact on the rest of the year.
March – Slamannan – I took a week off to let the knee recover a bit, and to get some medical attention. I was on crutches for a couple of days and then hobbling about. At the time I didn't know the extent of the damage and so I went back to work wearing a brace and working short days. My physio had recommended 10 weeks of recovery but that was just not possible, and I was glad to be able to produce some walling.
April – Slamannan and Lower Largo
In April I took on a young waller as a sub-contractor to help out with the work. I've swithered for several years about taking on an employee – I like the freedom of working by myself. Travel is easier to organise; I can choose the working the hours that best suits me and I don't need to worry about quality control. However, having additional workers would get more done, and hopefully earn me more money in the process, and given the problems I was having with the knee, I was falling behind with work deadlines. So it seemed like a good idea.
Grant helped out at Slamannan for a couple of weeks and then we moved onto Lower Largo in Fife to build this nice sunken seating area.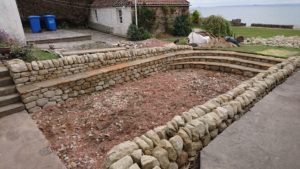 May – Lower Largo Grant and I worked on this smallish job for a week, and then he went off to help a friend of mine on another project. And he never came back! So I was back to working on my own again!
June – Slamannan – The Slamannan job finally came to an end in the middle of June. It had turned into something of a mammoth task and was completed with the help of a couple of friends who laboured for me.
By now my schedule was up in smoke. My next job was about a month behind and they were anxious for me to start. At this point in the year, I had several jobs lined up, all of them with the vague start of dates of "the summer" and "the autumn".
I never like to turn work away, so when a walling friend in England called with the offer of an opportunity to work in Europe, I jumped at the chance. At the time I had Grant working for me, and so with some long days and a bit of shuffling clients about, it was just about possible to fit everything in.  So I committed to shoe-horning another week into my schedule plus potentially some more time in August and September too. Having made the arrangements, worked around various deadlines and expectations, and sorted out my plans, Grant decided to leave and go back to his old employer. Oh well.
July – Holidays! Slovakia for work and Dunning After a far too-short summer holiday, I traveled down to Manchester to meet up with Carl Hardman, where were headed off to Slovakia to check out this potentially long-term job. Carl had been asked to come over with a view to carrying on the work of another UK-based waller, and he asked me along. It was an amazing job, in a stunning location. But the work was pretty much all mortared walling and not really my cup of tea. Although there was much well-paid work on offer I decided that it was not for me. I was feeling the pressure of keeping my current Scottish clients happy, and trying to fit everything in was proving difficult. So Slovakia got shelved.
When I got back to Scotland I jumped onto a job that I had had to reschedule a couple of times already. The clients were keen to get it done asap. I recruited the help of Danny Woodward, who was in the country at the time, and we worked hard for a couple of weeks on this one. The mix of stone and wood made for a really pleasing contrast of materials, and rather than shape the more usual semi-round copes, I decided to set some big rectangular copes instead. I think it turned out well!
August and September – North Queensferry
I'd done a few days on this job since finishing Slamannan in June, but due to holidays, Slovakia and the Dunning job demands on my time, I had not really been able to get stuck into this. I don't like dotting about between jobs but I've had no choice this year. Yes, it's all down to the delays caused by the knee. And an extra pair of hands would have been useful!
Progress went pretty smoothly on the main part of the job – the retaining wall, steps and bench. The client had other plans for the garden which I was kind of involved in and kind of not. Phases 2, 3 and 4 were vaguely discussed, whilst I was trying to get on with phase 1.
I had my friend Don helping labour for me for a few days in North Queensferry.  He was meant to be working for me, but was also – with my blessing – working with the landscaper on the paving section of the project (which I wasn't doing). One day, we had stone to bring in and the client had hired a 1 tonne dumper. He also had hired a mini-digger to remove soil from the next phase (one of the parts I was not involved with – I hope that you're still keeping up with the tale of woe).
Being faintly organised, it made sense to me to have Don bring in the stone and take out the soil on the return journey. I don't know what happened – the garden was sloped and Don perhaps mis-judged the angle. Who knows. But he tipped the dumper on its side. Although we hit the kill switch, the diesel engine was damaged. The hire company came and took the machine away and that is when the difficulties between me and the client started. Unhappy discussions about the liability for the repairs; the time the job was taking; constant client interruptions; money; time-keeping and general relationship between us. It all got a bit difficult.
I like to do a good job, I like to get on with my clients and I always put in more time and effort to build as good a product as I can. Getting into contractual disputes is not what I am about, and the fall-out from this job left a bitter taste in my mouth. Maybe my quote wasn't clear enough; maybe I should have been more vocal about which parts of the work were extra and which weren't.
Whatever the reasons, I was left out of pocket, with an unhappy client and an even more unhappy waller. If I thought the ski injury was bad, this was the real low point of the year.
However, life goes on an the rest of September was spent building this dry stone and oak bench in Linlithgow. Motivation and psyche were not especially high, but want can you do? It was nice to build a straight-forward project that went to time and budget and put some mental and time distance between me and North Queensferry.
October – Lanark
Next up was a long, low retaining near to Lanark. Again this was a project that had a delayed start, but the client has been super-cool with me since we first met up. Not long after I had started here, I had to tell the client that I had two "small" jobs with deadlines to fit in, plus a week's holiday in Spain and a trip to the USA in December! She was fine about it.
November – the first of two "wee" jobs – I took a week out away from Lanark to build this bench and steps for a friend in Eskbank, near to Edinburgh. It was good doing something quick with lovely stone. Even the late autumn weather behaved itself.
December – Lanark and Edinburgh – So it was back to Lanark for a bit more building before I left for a few days to do my second "wee" job, this one in Edinburgh. What had started out as a small retaining wall has since become a bigger retaining wall, a set of steps, a small raised bed and 10m of edging/low wall. It happens.
Thankfully my Lanark client is still cool about me nicking off to do other work. I am hoping to get everything finished for mid-January, and then I will be shutting up shop for the winter. I have two projects scheduled for March next year, and boy am I looking forward to resting out the winter!