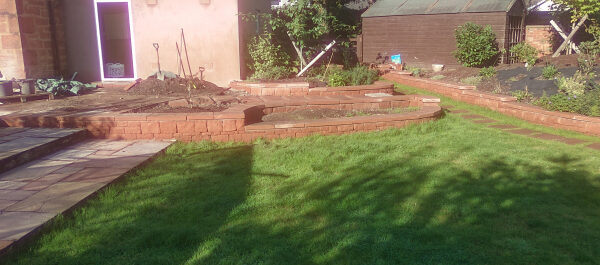 2021 – dry stone walling and landscaping review
It's been another interesting year of dry stone walling and garden landscaping projects for me.  I've had some lovely projects, worked with some excellent clients and most of the jobs taught me something new. Every day is a school day as they say.
The year started with lots of projects in the pipeline, got so busy that I had to pass work on, a new walling helper came on board and then left; and I cut my teeth on my biggest landscaping project.
It ended it with new Terms & Conditions for clients; I learned a heap of stuff and was back to working solo.
Here's my version of my year.
Garden dry stone wall – Scottish Borders – January to March 2021
The weather
The winter weather in early January was horrible to work through.  Intermittent periods of heavy snow and temps well below freezing made the work slow and pretty miserable.
I started a new work year with some help in the form of a stone mason with lots of experience in stone work, a keen attitude and a willingness to learn.
I had mentioned in an earlier post that he had come aboard on a trial basis to see how we worked together, how he took to the dry stone walling and so on.  The job in the Borders was going to be the trial job and was meant to take about three weeks.
Unfortunately the weather intervened and the best laid plans went to shit. Three weeks turned to eight.
We had moved the 15 tonnes of stone before Xmas 2020, and covered most of it with a couple of big tarpaulins to protect it from any snow that may fall. Then we both went on holiday for the festive period with a plan to start work on 4 Jan. We struggled through that day but it would be a week before we got back on site.  From then on until early March when the job was finally finished, we had a constant battle with the elements.
At points we used a gas blow-torch to melt the ice from the stones; a wood-burner fire to provide some heat and were constantly covering the stone and the stone work at night.  We had a couple of weeks where it was not possible to work at all, and many snow disrupted days. There was near constant freezing conditions apart from a bizzarely warm week.
The fallout
For both of us it made for a difficult working situation. I was accutely aware that the pay arrangements were not ideal as the job dragged on. The hours travel to the work site was expensive, especially if we couldn't get a full day in.
The three week trial job didn't work out the way either of us wanted, and it made working together pretty tense. By the end of February we had gone our separate ways.
It was definitely not how I wanted the relationship to work out.
My own cashflow was getting pretty desperate by the the start of March and the start of the next job couldn't have come too soon.
---
Dry stone bench – Edinburgh – March 2021.
This was a small job building a seating area for the clients in the Corstorphine area of Edinburgh.
An earth bank of very old and over-grown heathers were removed and replaced with a dry stone bench. A small island path was made to give access to the bench across the lawn, an old set of steps was repaired, a low wall rebuilt and a new dry stone retaining walling made. All in all, quite of lot of components for a small job.
After the trials of January and February, I worked pretty much constantly for two weeks, got the job done and had a much needed boost to my bank acccount. I like these jobs!
---
Dry stone walls, paving, steps and a water-feature – Ratho – March to May 2021
Now that I was back to working alone, I was tasked with undertaking a big landscaping job which definitely required two or more people to make it work to budget and time.
The job involved removing the sloped lawn and replacing it with two dry stone wall terraces (maybe three if there was space); installing a large area of paving; helping to put in a water feature; building steps and removing all of the turf.
I had some help from a friend doing the digger work and a labourer for 10 days doing a lot of the grunt work.  Otherwise it was all me.
The tone for the job was set from day one when I sent in the quote.  I had meant to price in two builders skips with a possible third for the end.  I realised as soon as I sent the the quote that the costs were wrong, so was on the phone immediately – but it set a tone of communication issues that would cloud the job.
This was the biggest landscaping job I've done by myself and it definitely needed some more help for the duration of the project than I had.
Every job is a learning job. There's a lot I'll do differently next time.
---
Low garden walls, steps and paving – Dumfries – April to September 2021 (on and off)
I had been pestered for months by a friend to come and do some stonework in his garden.  It started off as a fairly manageable month working away building lots of low walls with a big set of steps up to a new summer house. Along the way it morphed into something much bigger as lots of paving and a set of fancy steps outside the greenhouse were added.
It was a nice change from the some of the stress of the first couple of jobs to be working and staying with a friend.
I usually do dry stone walling but this was all mortared work.  Again it made a nice change to work with stone in a different way.
The days turned out to be quite long – starting 8 to 8.30 in the morning and taking advantage of lovely spring and early summer weather working until 6 or 7pm when my dinner was made for me!
The job was another one that was hard to do on my own.  I was dressing stone; moving stone; mixing mortar and cutting and setting cap stones.
But both of us were really pleased with the end result.
---
Garden makeover, paving, seating area and steps – Livingston – June 2021
In June I had a busman's holiday and finally did some work in my own garden.  The plan was to remove the increasingly rotten decking and replaced it with stone paving and a new seating area.
This was another landscaping job that needed a labourer.  My partner Julie did a lot of the shifting work as we filled a skip with wood and soil from the garden and brought in tonnes of material to create the new space.  She discovered early on that she wasn't cut out for pushing the barrow up the ramp into the skip.
So the relaxing holiday turned into a full-on project.
Again it turned out well. There's a bit more paving to do before the patio is completely finished, but that can wait to 2022.
---
The Ha Ha stone wall – Perth – July and October 2021
In early July I was back up working for my regular client in Perth on the next phase of his garden landscaping.
This time I started on a long, low wall which would join up the two ends of the big retaining wall and steps I had built in 2021.
The progress of this new project was affected by summer holidays, another small job I had committed to, and the effects of my first covid vaccine which lost me a couple of days.
There was not so much to the building as the stonework was only 700mm high – pretty much just two courses and a cope. The fun part was building the sweeping curves and the sharp top line.
---
Two small walls with Alston stone – Cairneyhill and Milnathort – August 2021.
August was a month of doing two small dry stone walls in front gardens for lovely clients with friendly neighbours.
Both ran to schedule.
Both were on budget.
Easy.
And the Milnathort job generated lots of comments and several work enquiries and one confirmed job.
---
North Queensferry – the most puzzling job – September 2021.
Every once in a while an amazing project comes along.  This was one such project.  Clients who were really keen; the opportunity for creativity and design input; lots of work and scope to transform a big garden. Brilliant!
The dry stone walling quote
The job was priced up in the Spring of 2021 and had the following aspects to it:
A seating area and fire pit with a sea view;
A long dry stone walling retaining wall;
A long free-standing wall
A fancy/grand staircase;
A long sweeping and curvy planters with possible associated paths and steps;
A small planter.
The quote was duly accepted. I was requested to pencil in a start date of the end of August and asked to book out of the whole of September to the New Year.  It couldn't have been better.
But I guess things which seem too good to be true usually are…
With a late August start date, the remainder of the year was planned around getting everything done so I could start. In order to make the date, one job decent sized job was passed on to another waller; and three more potential clients were just told that I couldn't fit them in.
As we got toward the date, I was told that the planters and paths were not required. The long free-standing wall was also shelved – it was agreed between us that it should be mortared rather than built dry. In order to help them out, I recommended a stone mason I knew for the job.
This left me the seating area, the grand staircase, the retaining wall and the small planter – still plenty for me to do.
I duly started on 2 September, only a couple of days later than planned.
Three days into my building of the small planter, I was told be the clients that they'd changed their minds and decided to do everything bar the small planter with mortared stone work rather than dry.
Can you tell me what happened?
To say I was confused is an under-statement. Everything in my ability was done to facilitate the job. The clients were introduced to the stone supplier, enabling them to reduce their costs by buying directly from him. I made multiple, unpaid site visits to check out the ground works, discuss project options etc. I even found them a stonemason to do the mortared work!
No reasonable explanation of why they changed their mind was given.  They said that there was no question of the quality of my work.  We seemed to get on great with lots of nice chat. Everything seemed to be going well.  And then the rug was pulled with no warning.
This job taught me one huge lesson that I have since rectified.
I have never felt the need to ask clients for a retainer, especially when months might elapse between the confirmation of a quote and the start date – it just didn't feel right taking money upfront and holding a deposit. As a result of my experience with these clients, I drafted a new set of terms and conditions for all future clients. From now on a 10% retainer will be required so that if the situation of a confirmed client pulling out with no or very short notice occurs again, at least I'll have the compensation of the deposit to cushion the blow.
Whilst I might not have done the job I had quoted for, at least something positive came out the of the experience.
---
Small paved area and fixed old paving – Edinburgh – September 2021
After the disappointment of North Queensferry, I called a couple of the clients I had put on hold to see if I could move their job back up the list.
Thankfully they all said yes.
First up was putting down some paving for this client in Edinburgh.  I had built a lot of walls and a grand staircase in their garden in 2020.
They had had trouble finding a landscape contactor to do some paving. For some reason, they could not get anyone to commit, so given that I had a four month hole in my diary, I said I'd do it.
A nice and easy job.
---
Small wall rebuild – Paisley – September 2021
The next job was taking down and rebuilding this low wall in a garden in Paisley.
Take down.
Rebuild.
Paid.
---
The Ha Ha stone wall – Perth – July and October 2021
After that, I was able to jump back on the Ha Ha wall that I had started in July, and got that completed.
As ever it's a pleasure working for the folks up in Perth.
We've already discussed two more stone projects for 2022…
---
Crazy paving – Rosewell – October 2021
Flipping through my book of jobs to do, I called up another long term client in Rosewell, Midlothian to re-do their front path.  We had talked about this for a more than a year, so with this sudden diary space, I did this job too.
---
Front garden wall and entrance steps – Kilsyth – November and December 2021 (and into January 2022!)
I had one more potential client up my sleeve to hopefully see the year out.
I had first been to see the job in 2018. At the time, the clients were engaged in a major rebuild of their house and so the discussions we had at that time were speculative.
In the autumn we started the discussions again and with some available time we agreed to rebuild the low wall at the front of their house and add in a feature set of steps.
I was hoping to have this dry stone walling project finished before Xmas but various factors have made it slow going.
The finished job is going to be lovely though!
---
Back garden makeover – Livingston – December 2021/January – February 2022
Taking advantage of Xmas and some available labour, I made a start on the first job of 2022.  Three of us spent two days prepping the ground for a low retaining wall, paving and steps.
Several tonnes were dug and barrowed out, and several tonnes were barrowed back in, all ready for building in a couple of weeks time when the dry stone walling can begin in earnest.
I was really keen to have a local job to me after suffering so much lost time due the horror winter of January and February 2021. I'll have a job 10 mins drive from me, so if the weather is too cold to work, it's not going to be such a pain going home.
---
Thoughts on 2021 and what's next for 2022?
Lessons
It's been a learning year for sure. Here's some lesson's I'll be taking forward:
I'll never take work for granted;
A job is not actually happening until the retainer is in the bank;
I'm going to be clearer in my communction with clients, especially when billable extras are required;
I won't assume that clients are friends no matter how friendly you all get on;
I will continue be professional at all times no matter what happens.
Social media
I'd like to see form of return on the time I invest in social media. My FB business page doesn't generate leads – just a couple in the 10 years I've run the page. Instagram is just an echo chamber of likes from fellow wallers and stone lovers. It's nice to get likes and comments and shares but as ever, it's how to monetise the content.  Perhaps I need to do some learning here?
Working with others
This is an on-going issue without resolution. The apprentice route is not much use to me – there just isn't enough for a beginner to do.  An experienced worker requires too much money (if they're any good they'll want paid decent money). A business partner is an option but Stone Inspired is as much a life-style choice as a business and I'm not sure I want to give up the level of control my work has on my life.
Maybe there is no resolution and I just have to accept that this is it…
Projects
I have a few dry stone walling projects lined up for the first half of 2022 (assuming everything pans out as planned – which it never does!).  Work enquiries always dry up over the winter, so as ever it'll be interesting to see what comes in from March onwards.
Suppliers
I'm always on the look-out for new stone to work with. Border Aggregates in Kelso and Hutton Stone near Berwick will continue to be the main sources for me, but I'd like to expand the range of material I have available.  It's good to push oneself professionally and using the same stone year after years gets a bit samey.