2022 – a year of dry stone walling firsts and new experiences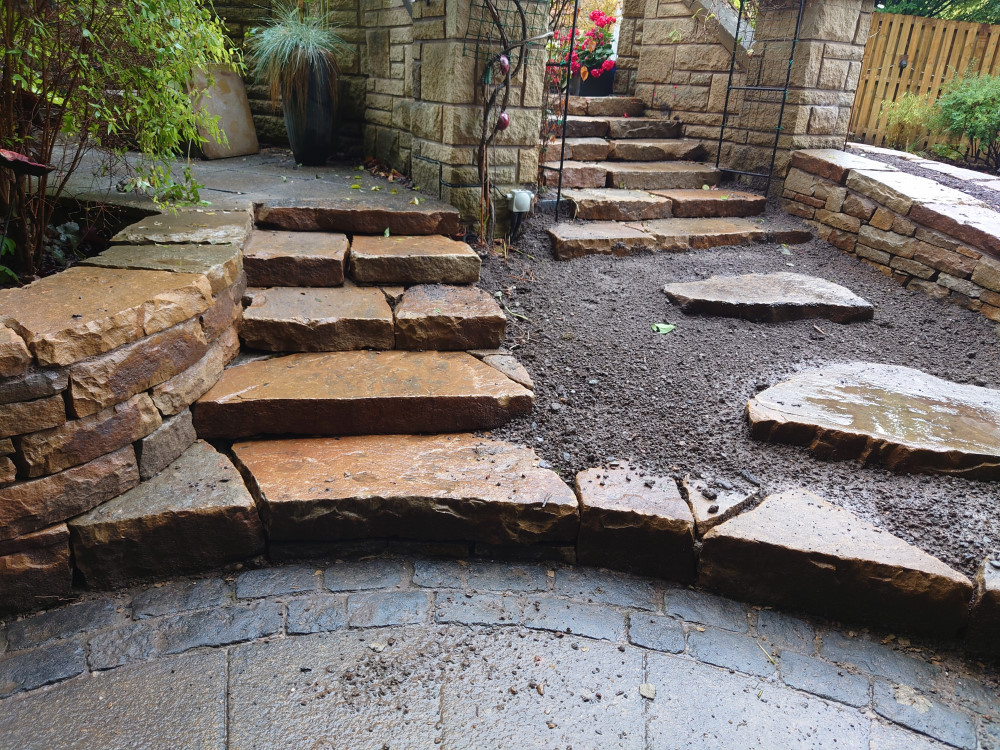 2022 was a good year for new walling experiences – a first Chelsea Flower show build; a first trip to remote St Kilda, my first job in England and making the front cover of the Dry Stone Walling Associations quarterly newsletter, the Waller and Dyker.
In between the new experiences I did a bit of the more usual dry stone walling work.
---
The day job – dry stone walls, steps and crazy paving in Livingston, West Lothian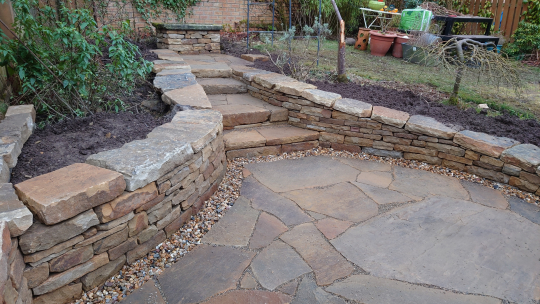 This garden makeover in Livingston, 10 minutes drive from my house involved removing a sloped lawn and creating a three tiered garden with dry stone retaining walls, big chunky steps and American-style crazy paving.
---
New experiences – the Chelsea Flower Show – May 2022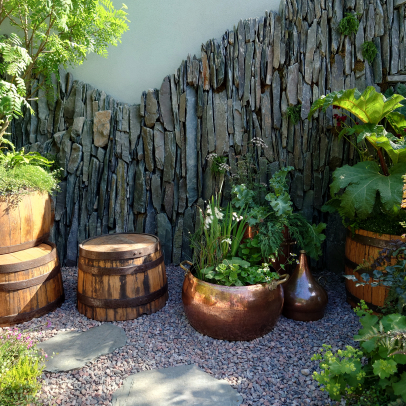 The garden designer Jane Porter asked me in early 2022 if I would be interested in doing some stonework on a garden she was creating at the Chelsea Flower show.
I'd never worked on a show garden before and was delighted to be asked.
The design called for slate from the defunct Craiglea quarry on the Logiealmond estate in Perthshire to be stacked vertically in the shape of two rolling hills.
Euan Thompson aka The Stone Dyker helped me do the stonework over three very long days.
The finished garden looked amazing and the judges thought so too – it was awarded the Gold Medal for best container/balcony garden!
As a first experience of working on a show garden I have to say I learned a huge amount. Long hours are required as time to create is tight. The camaraderie and support from the other builders was excellent. Beers after work at the Rose and Crown always taste great. And it was really satisfying to hear kind words about the quality of the stone work from everyone – the BBC garden show presenters and public alike.
I wrote in a bit more detail about the garden here.
---
The day job – repeating and rebuilding dry stone walls in N Lanarkshire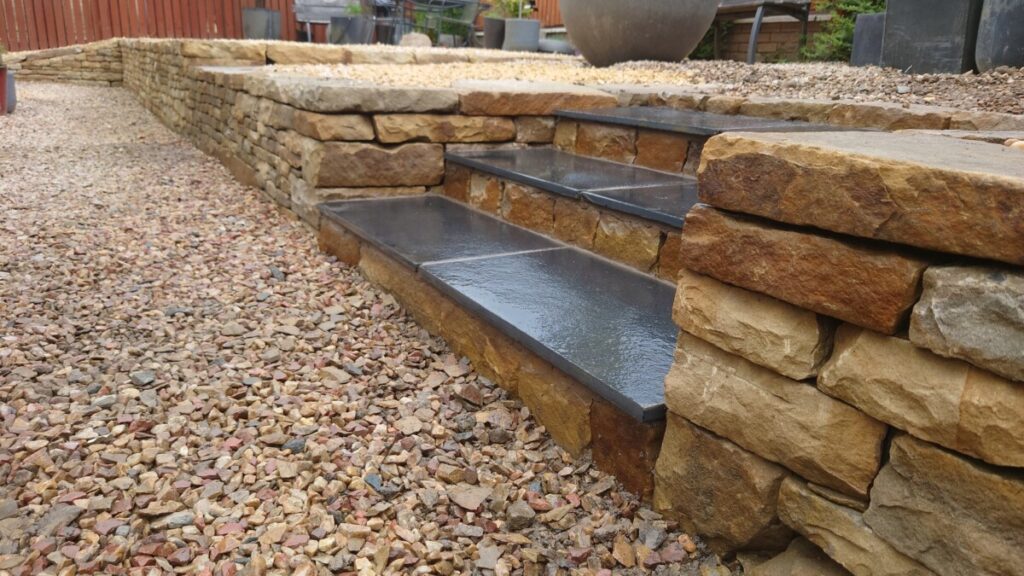 I first worked in this garden in 2003, building a low retaining wall and steps.
A year ago the clients put in a new conservatory and the old wall had to get taken down to create the space.
Once the conservatory was built, I came back in and made a new low retaining wall and steps.
---
New experiences – St Kilda

St Kilda, 50+ miles west of Lewis in the Atlantic ocean, is a remote island archipelago that many people aspire to get to. The weather, the sea conditions and the long, sea-sick inducing boat ride puts even people off.!
So to be able to spend 10 days there in July and getting paid for the privilege was awesome! Euan Thompson and I went out to work with the National Trust for Scotland archaeologist carrying out remedial work on some of the hundreds of dry stone structures on Hirta, the main island.
It was quite an experience!
There are more details of the trip in this article.
---
The day job – The circular dry stone bench in Cumbernauld.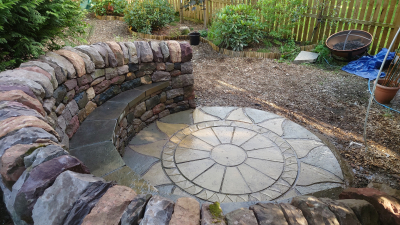 This was a fairly straight-forward curved dry stone bench in a garden in Cumbernauld.
The circular paving was already in place, and using a mix of reclaimed stone that was brought in and stone aleady there, I built this nice stone feature.
Good clients, good access, a job on time and budget!
---
The Day job – The Edinburgh stone retaining wall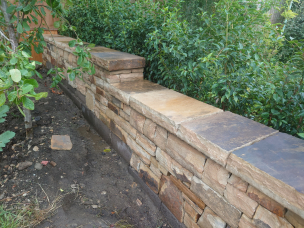 Another fairly straight-forward job.
This one was a dry stone look (i.e mortar backed stone up against a mortared wall).
I used stone from Ladycross quarry near Hexham for the first time. Supplies of Alston stone that I tended to use were difficult to get, so it was a good opportunity to try something different.
---
New experiences – working in SE England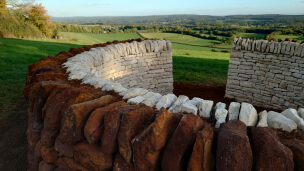 I've never worked in England before, so I was really pleased to get this opportunity to build a stone viewpoint/bench on the Titsey estate in Surrey.
The project was commissioned by Surrey Hills Arts as one of a series of inspirational views.
Nick and Trish from INSTAR won the commission and they asked me to work with them. Their design was a circular stone structure with a bench on the inside and an opening looking out SE to the Surrey/Kent border.
It was decided to use to two stone types for visual effect – big and chunky, locally quarried iron stone for the outside and smaller, finer, White Lias limestone for the inside.
It was a fantastic project work on – the combination of the two stone types was eye catching.
There is more information and images here.
---
The day job – Edinburgh dry stone planter and steps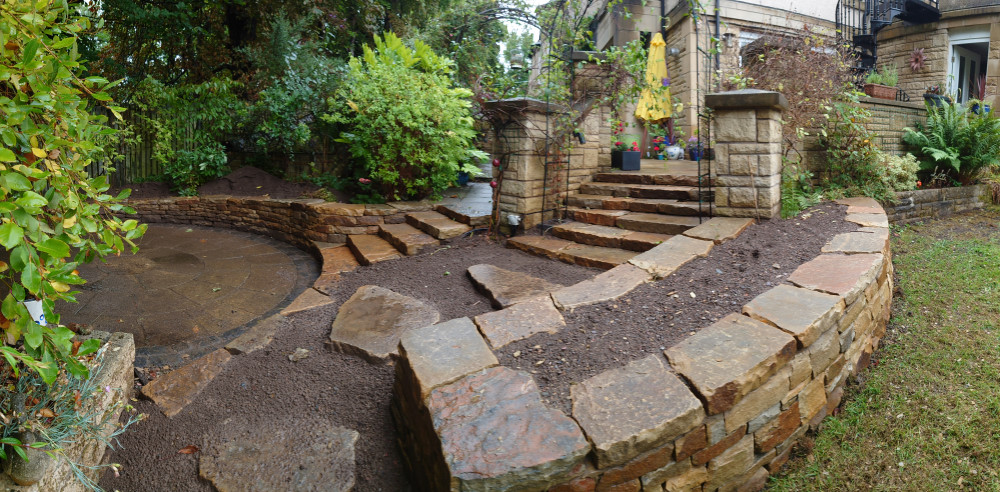 This job involved another set of former clients – in 2014 I had built a large feature wall in another part of their garden.
This time I made a couple of planters and two sets of steps with big chunky slabs of Alston stone.
---
New Experiences – getting into print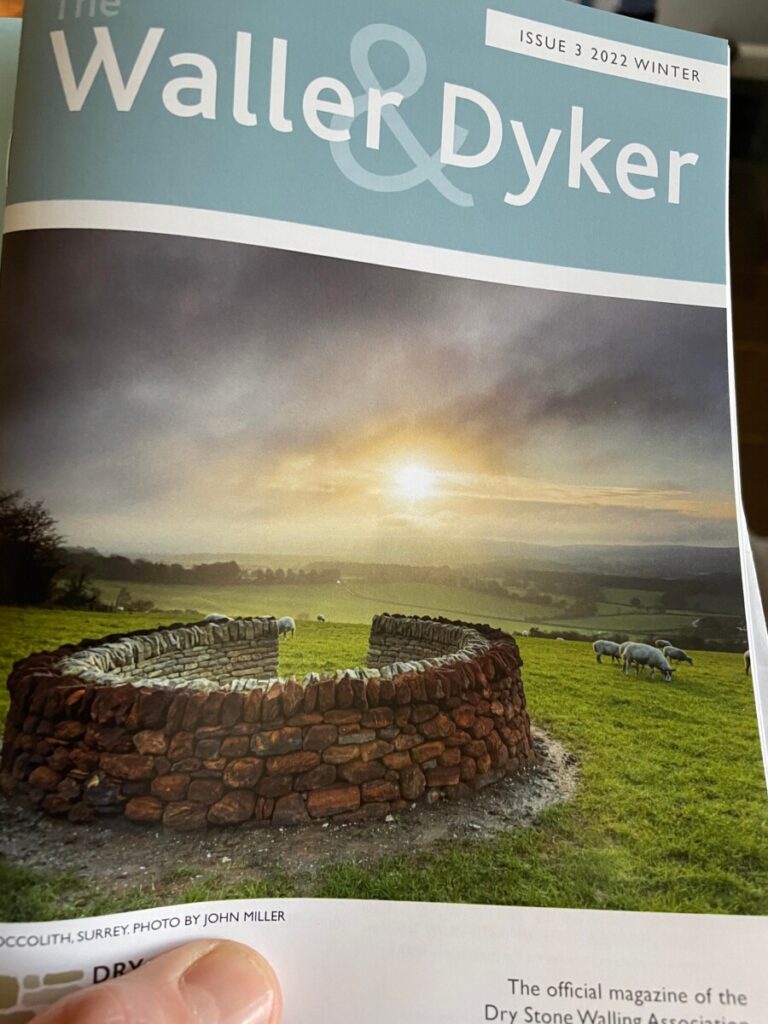 To cap off a year of new experience, I was pleased to have "Coccolith", the stone work I built in Surrey on the front cover of the Dry Stone Walling Association's quarterly magazine "The Waller & Dyker".
---
The Day job – Remaking a retaining wall in Perthshire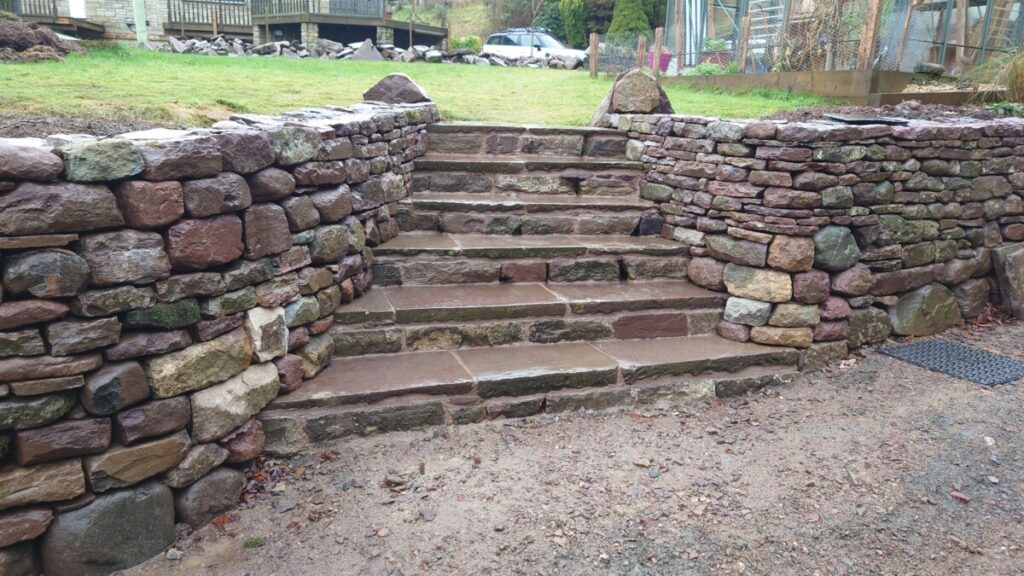 So, now we're onto the last job of 2022 and the first job of 2023.
It's taking longer than I had planned but bad weather, poor quality stone, illness, a trip to the USA, packing up my worldly goods and another dozen excuses are are all slowing me down.
It'll get done…
---
Thoughts on 2022 and what's coming up
More excellent opportunities please!
2022 brought up some most excellent dry stone walling opportunities – working on the Still Garden at Chelsea; spending time on St Kilda and building some stone art in Surrey. I am hopeful that 2023 will bring more experiences at least as good as these.
The mythical walling employee
I would have liked to have produced more of my own stonework but as ever finding one of these mythical dry stone wallers is proving impossible. There must be someone who matches the following:
Someone I can work with (and they can stand to work with me);
They can see the stones exactly how I see them;
They can work without me constantly supervising;
They like my stoner rock music and my Buffalo Bills podcasts;
They have their own transport, tools, hair and teeth (the last two are not major requirements tbh;
Can work around my schedule.
Surely, it can't be that hard to find another me, can it?
Having the opportunity to work at Chelsea and St Kilda with Euan Thompson was great this year. The fact that we're still speaking is obviously a positive sign 🙂 Euan is in a similar boat to me – we have our own particular styles and methods, and bringing others on board is a difficult prospect. Euan's work is excellent and is so because he does most of the building himself.
David F Wilson, the famous stone artist and waller came on board for a couple of jobs – David is another long-term friend and usually super busy too. So getting him for the days I did to speed two jobs along was a great help.
As usual, the good wallers are busy with their own stuff.
Promotion
I've spent a bit of money promoting myself geographically on Instagram, Facebook and Google this year. I quite like the challenges that working a distance from home presents, and I am keen to find work in the SE of England, where as everyone knows, the streets are paved with gold. Having two jobs in Chelsea and Surrey to post about has definitely helped and Stone Inspired is now trending well in Google searches for dry stone walling, London. It's already led to one enquiry with discussions on going.
2023
Next year is going to kick off with a house move from West Lothian to Fife. Where I currently live is an ideal 1 hour from pretty much anywhere and everywhere in central Scotland. My new place in Kennoway is a wee bit further from Edinburgh and Glasgow. As of now, I have no idea yet where I'll be working but I figure to be driving more than I do now.
I have a couple of jobs lined up and ready to go; a couple of quotes in that I am waiting to hear back from and several jobs where discussions have taken place.
I think there is another Chelsea garden to work on and hopefully the year will throw me some excellent experiences.