Review of dry stone walling projects – January to June 2013
2013 has been another busy year.
The highlights for the first half of the year were getting through the winter pretty much unscathed – apart from being a very long winter, I was lucky that the jobs I had to do pretty much missed the worst of the snow, and I was able to work virtually every day.  I got to use red sandstone for the first time; I got to built my first funky barrow ramp (will I get a second one??); I built another piece of stone work for a primary school on another kids project; and I was lucky enough to get a really big project that kept me occupied for much of the second quarter in 2013.
In total for the whole year (with 11 days still to go), I've done nearly 200 days of building work (not including five days in Spain with the DSWA in October) and have used labourers and paving guys for another 43 days.  I can't even begin to work out how much stone I have shifted but it must be at least 200 tonnes…
So, here is the review of the dry stone walling built in the first half of 2013…
January 2013
Bathgate – pillars, free-standing and retaining wall
This was a job long in the making – 10 months from first discussions and quote to completion in early February 2012.  I started work finally a few days before Christmas 2012 – it was cold! For much of the job I had to work with a flask of hot water to hand, pouring small amounts over the stone to melt the ice before laying the stone!
February 2013
Bathgate – free-standing wall
Shortly after I completed it in 2012, a car went through a section of this wall. I finally found some time in early February to spend a few days to make the necessary repairs. As you can see, the weather could have been a bit kinder!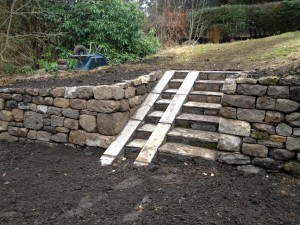 South Lanarkshire – retaining wall and steps/ramp
I took down and rebuilt this retaining wall. And I moved a lot of soil. And then some more the next day when more of it collapsed overnight. And again the next day. I remember this job being really cold and damp, as the garden was shaded by trees and never quite got the sun. Still, I got to build an interesting wheel-barrow/mower ramp/thing.
March 2013
Whitecraigs – bench
I built two benches at this primary school in East Lothian. The work was part of a project to transform an unused piece of grass playing field into a story-telling garden. The project involved the kids, parents and teachers in designing and creating the space. It was quite a fun job.
Edinburgh – retaining walls, steps and bench
And so the end of March saw me starting work on this mammoth job in Edinburgh. The plan was to build a series of retaining walls with one grand staircase, one smaller staircase and maybe a bench into this garden. The actual layout was a bit more vague, and kind of developed as I went along. The design and the look changed frequently, especially with the discovery of so many amazing monoliths that appeared as the garden was dug out. They just had to go into the wall!
I think the photo was taken on day two of the build.
April 2013
Edinburgh…and again
Work continued in Edinburgh through most of April… We just had to use this huge stone as the lowest riser for the main staircase – it was so perfect for the job.
Auchtermuchty – final bits and pieces
In late April, it was back to Auchtermuchty to finish off the work that had to be left over from the winter before when the cold ground had defeated us. Just three days on low walls. Easy.
The weather was nicer than the main part of the project work in November 2012 but the stone was still horrible…
Dry stone Walling Association  – training
As part of my involvement with the South East Scotland branch of the Dry Stone Walling Association, I was the instructor on a weekend course for three people in the Pentlands.  We took down and rebuilt a short section of wall on one of the local farms.
May 2013
Edinburgh…still here…
It's May, and guess what? I'm still working in Edinburgh. Not quite there yet…
June 2013
Edinburgh…same city but another job
I took a week or so out of the "big" Edinburgh job to do the "small" Edinburgh job. It was nice to get a change of scene for a few days!
Edinburgh…back to the big job
Soon enough it was back to the big job to complete it! In the end I spent nearly 43 days working here. I did almost all of the stone work, used something like 60 tonnes of stone and ruined my elbows with all of the hammering!
It was really interesting working away on this one – the design was pretty fluid within the general parameters of what the landscaper and client wanted. I had so much input into the design of the job, so it was a great job to work on.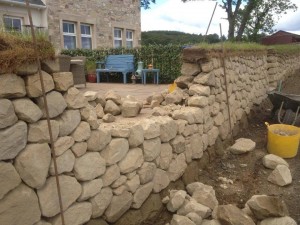 Kinross – another repair
The final job of the first half of the year was repairing some more vehicle damage to another job from 2012. This time it was to my turf-topped wall in Kinross that a truck had clipped.